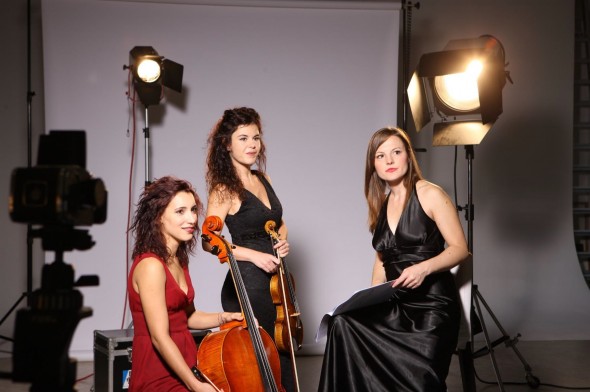 Trio Carducci was founded in Milan (Italy) by three Italian performers: violinist Germana Porcu, cellist Matilda Colliard and pianist Sara Costa. Germana, Matilda and Sara approach chamber music as form of communication between souls, an exchange of ideas, and as a deep friendship in music. Their freshness and spontaneity influence the choise of repertorie, which is personal and eclectic, interested also in the discovery of understimated music and new composers. The trio benefits from the advices of M° Konstantin Bogino (Trio Tchaikovsky), M° Frieder Berthold and M° Klaidi Sahatci among others. They have recently videorecorded the Trio élégiaque n.1 by Rachmaninov and they are working at the recording of The Seasons by Tchaikovsky (transcription for piano trio by Goedike).

GERMANA PORCU – violinist Considered by critics as "Violinist of great ability and security, the manner of a well established artist who faces the music with great commitment fascinating the public." She began her musical studies driven soon by M°F.Cusano. She earned his degree Level II with honors and praise at Istituto Musicale G.Donizetti in Bergamo. In 2010, as the best graduating, she was awarded the prestigious "Premio Rotary" from the city of Bergamo. Since 2006 she is violinist at "Orchestra Bergamo Musica Festival" of Teatro Donizetti in Bergamo with whom she toured in Italy, Japan and Sweden. In 2009, she performed under the guidance of the composer Giya Kancheli, his composition "In l' istesso tempo" , enjoying the warm appreciation of the author. She won several competitions, including: 1st Prize at the "3°International Music Competition of Chamber Music Miryam and Pierluigi Vacchelli"; 1st Prize at the "11° International Music Competition Italian Festival", with the Special Prize "Soloist with Orchestra" with which she was invited to perform Concert n.5 K219 by W.A. Mozart with Orchestra "Alessandria Classica"; 3rd Prize at the 30° edition of the prestigious "International Competition for Violinists Michelangelo Abbado" (1st-2nd Prize not awarded), 1st Prize, as Soloist with Orchestra, at the "26° European Music Competition".She won a scholarship study donated by M° Claudio Abbado. In 2013 she was named "Most distinguished violinist" at "World Music Competition Ibla Grand Prize". In 2015 she won the 3rd Prize at "V Concurso y Festival Internacional de Músicos" en Madrid, debuting in the same city, experiencing appreciation of the Jury President Victor Abramyan (Professor of violin at Moscow Tchaikovsky Conservatoire) and the public. She has performed in many concerts as a soloist and in chamber music in Italy, Germany,France,Switzerland,Spain. She attended masterclasses with M°I.Volochine, M°S.Makarova, M°P.Vernikov. She was executed with M°F.Cusano in Fiesole (Firenze), M°S.Gessner in Paris, currently with M°K.Sahatci. Since 2015 she plays in duo with pianist Sara Costa, with which, together with cellist Matilda Colliard, she formed Trio Carducci. She recorded for Tactus in chamber music. She plays a violin Riccardo Antoniazzi 1910.
MATILDA COLLIARD – cellist Born in 1987 into a musicians family, Matilda began studying cello at the age of 4. She graduated under the guidance of Maestro Alberto Drufuca at Novara Conservatory with highest honors. She followed master classes with Enrico Bronzi, Giovanni Gnocchi, Marianne Chen, Rafael Rosenfeld and Macha Yanouchevsky. Winner of many chamber music competitions, she specialized in the repertoire for cello and piano with Maestro Pier Narciso Masi at the International Piano Academy of Imola and later at the Academy of Music in Fusignano. She also did a specialization in baroque cello with M. Gaetano Nasillo. Matilda has also collaborated with many orchestras including Orchestra Verdi of Milano, Symphony Orchestra of Savona, Symphony Orchestra of Valle d'Aosta and as first cello with Orchestra Carlo Coccia in Novara and the Orchestra Ente Lirico di Sassari From 2011 to 2014 she was professor of cello at the "Ricordi Music School "in Milan. From 2013 she is playing for "ClassicaViva" Orchestra conducted by Maestro Stefano Ligoratti, with whom she started a new collaboration as duo cello and piano. They are finishing the complete recording of compositions for cello and piano by L. V. Beethoven. She is founder of Colpi d'Arte Musical Association, together with Stefano Ligoratti and Eugenio Francesco Chiaravalloti. The aim of the Association is to promote music and culture in every shapes and expressions. In 2016 she founded "Trio Carducci" with Germana Porcu (violin) and Sara Costa (piano). The trio benefits from the advices of M° Frieder Berthold, Konstantin Bogino (Trio Tchaikovsky) and Klaidi Sahatci. They have recently videorecorded the Trio élégiaque n.1 by Rachmaninov and they are completing the recording of Seasons by Tchaikovsky (transcription for piano trio by Goedike.
SARA COSTA – pianist "A very talented pianist who instinctively performs with flair and passion." (M.Roscoe) Pianist Sara Costa is regarded by critics and public alike, as one of the most interesting young pianists of the italian new generation. Her repertoire ranges from Bach to contemporary composers. In Italy she's regularly invited in many important festivals. Among the others, she has performed at G.Donizetti Theatre and Sala Piatti in Bergamo for "Società del Quartetto", Sala Puccini and Gaber Auditorium in Milan for "Società dei Concerti", Sala Bossi in Bologna, Sassatelli Palace in Imola, La Fenice Theatre in Venice, Ponchielli Theatre in Cremona, Cappella Paolina of Quirinale Palace broadcasted live on Rai Radio3, Parco della Musica Auditorium in Rome, Fazioli Concert Hall in Sacile.Abroad she has played successfully France, Germany (Hr Sendesaal in Frankfurt), Austria (Mozarteum of Salisburgo), Sweden (Grunewaldsalen in Stockolm,Sandviken Festival), Czech Republic (Huqvaldy Festival), Slovenia (Ptuj Festival), Israele (Eilat Festival),Croazia (Zagreb Concert Hall), Great Britain (Royal Academy of Music,St Martin in the Fields, Italian Cultural Institute), Spain (Conservatorio Superior de Catalunya). In May 2014 she played at the prestigious Saint- Martin-in-the-Fields in London, in a Series dedicated to the best european musicians, and in 2015 she's been invited again, for "Pianists of the world" Concert Series. Recent highlights include also a tour in Japan in October 2014 with performances at Opus Hall in Hyogo and at the famous Phoenix Hall in Osaka. Sara is a devoted chamber musician: among several artists, she has played with members of Berliner Philarmoniker and she has shared the stages with leading musicians like K.Bogino, P.Vernikov, I.Volochine,A.Zemtsov,J.Ocic. As a soloist, she's worked with Orchestra Filarmonica Italiana, Roma Tre Orchestra, Orchestra Sinfonica of Chioggia , Orchestra "Il Clavicembalo Verde", "Musica Festival Donizetti" Orchestra, with italian conductors such as P. Belloli, S. Ligoratti, P.Perini, G.Pelliccia. Selections of her concerts have often been broadcast by international television and radio stations, such as RAI Radio3, Radio Classica, Radio Vaticana. In 2011 she released a cd/dvd dedicated to Tchaikovsky in duo with the violinist C.J. Saccon, for Wide Classique Label. In 2015 Sara has founded, along with some fellow musicians, the Cultural Association Cluster, with the aim to promote and propose musical and interdisciplinary events and activities. In 2016 she founded Trio Carducci, with violinist Germana Porcu and cellist Matilda Colliard. From November 2013 she's Piano professor at "G.Donizetti" Conservatory in Bergamo.
REPERTOIRE 2016/2017
L.V.BEETHOVEN Trio op. 70 n. 1 "Ghost"
J.BRAHMS Trio op. 8
F.MENDELSSOHN Trio n. 1 op. 49
S.RACHMANINOV Trio Elegiaque n. 1
P.I.TCHAIKOVSKY The Seasons (trascription by Goedike)
D.SHOSTAKOVICH Trio n.2 op. 67
M.RAVEL Trio

Altri artisti correlati a questa categoria, da poter visionare e scegliere