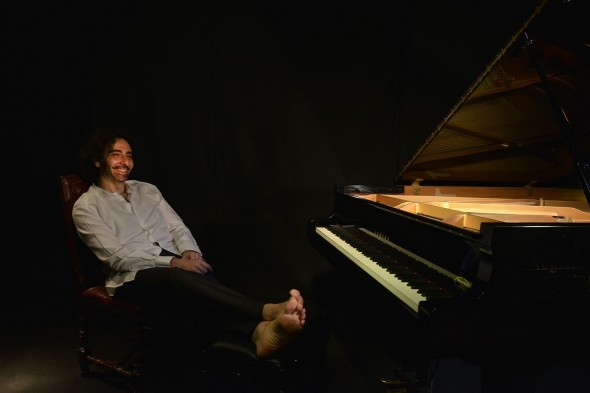 Diplomato al Conservatorio di S. Cecilia, ha studiato pianoforte con Giuseppe Scotese e composizione con Ivan Vandor.
Ha proseguito la sua formazione perfezionandosi a Vienna con Krassimira Jordan, Wolfgang Watzinger e Paul Barnes.
Attivo anche come direttore d'orchestra in Italia e all'estero, è stato allievo prima di Piero Bellugi (Firenze), poi di Jorma Panula (Helsinki), Arkady Leytush e Paavo Järvi (Tallinn).
Oltre alla formazione musicale, ha proseguito gli studi umanistici laureandosi in filosofia, in storia delle religioni e addottorandosi all'Università La Sapienza in filologia e storia del mondo antico.
Si distingue per i suoi recital pianistici dal repertorio differenziato, dove la tradizione è sempre in dialogo con autori e stili contemporanei, da Philip Glass a Frederic Rzewsky, Lowell Liebermann, William Duckworth, John Adams.
I suoi progetti si caratterizzano inoltre per lo scenario artistico (letterario, figurativo, coreutico) nel quale ogni volta i programmi si radicano.
Si segnalano in particolare i concerti ispirati a Vladimir Nabokov: "Cose trasparenti" e "Parla, ricordo" e l'integrale delle Etudes di Philip Glass.

 Alessandro Conti – repertorio corrente

Barber – Adagio Beethoven – Coriolan overture,
Egmont overture,Symphony No. 1,Symphony No. 3, Symphony No. 5
Symphony No. 6, Symphony No. 7, Symphony No. 8
Piano Concerto No. 1, Piano Concerto No. 3
Fidelio
Brahms – Academic Festival Overture
Tragic Overture
Serenade Op.11, Symphony No. 2
Symphony No. 3, Symphony No. 4
Bridges – String Suite
Debussy – Prélude à l'apres-midi d'un faune, Nocturnes
Donizetti – Don Pasquale
Dvorak – Serenata for Strings Op.44
Symphony No. 1, Symphony No. 7
Symphony No. 9
Elgar, E.
Enigma Variations
Serenade for Strings Op.20
Haydn – Symphony No. 49
Symphony No. 93, Symphony No. 104
Kalinnikov, V. Serenade for strings in G minor
Janacek – Suite for strings, Idyll for string orchestra
Mahler – Symphony No. 1, Symphony No. 2
Rückert Lieder
Mendelssohn – The Hebrides overture
Symphony No. 1, Symphony No. 3, Symphony No. 4
Concerto in D minor for Violin and Strings
String Symphony No. 7 in d minor
String Symphony No. 10 in b minor
String Symphony No.11 in F
Mozart – Magic Flute overture
Symphony No. 29, Symphony No. 36
Symphony No. 39, Symphony No. 40
Symphony No. 41, Piano Concerto No.23 K 488
Requiem, Nozze di Figaro, Don Giovanni, Così fan tutte
Puccini – Crisantemi for String orchestra
Preludio sinfonico, Madama Butterfly, Boheme
Rachmaninov – The Isle of the Dead
Symphony No. 1, Three Russian Songs Op. 41
Strauss, J. – Unter Donner und Blitz, Polka
Furioso Polka op. 260, Gipsy Baron overture, The Bat overture
Strauss, R – Tod und Verklärung
Metamophosen for 23 strings, Letzte Vier Lieder, Der Rosenkavalier, suite
Schubert – Symphony No. 3, Symphony No. 4
Symphony No. 5, Symphony No.8 "Unfinished"
Schumann – Symphony No. 3, Symphony No. 4
Sibelius – Finlandia Op.26
Symphony No. 2, Symphony No.3
Symphony No.7, Valse Triste
Romanza in C for strings
Impromptu for strings
Stravinsky – Apollon Musagete, Symphony of Psalms
Tchaikovsky – Symphony No. 1, Symphony No. 4
Symphony No. 5, Symphony No. 6
Romeo and Juliet Overture
Francesca da Rimini
String Serenade Op. 48
Violin Concerto Op. 35
Vaughn-Williams
5 Variants of Dives and Lazarus
Serenade to Music
Verdi – La forza del destino, Sinfonia
Traviata, Otello, Requiem
Wagner – Siegfried Idyll,
Tristan und Isolde Prelude
Weber – Freischütz Overture
Oberon Overture
Webern – Passacaglia Op. 1
Langsamer Satz for strings orchestra
Pianist
ADAMS, Phrygian Gates, China Gates
BACH, Wohltemperierte Klavier, Partita No. 4, Chromatic fantasy and Fugue
Bach-Liszt, Prelude and fugue in a minor
Bach-Cortot, Arioso from the f minor Concerto
BEETHOVEN Sonata Op. 28, Sonata Op. 53
Sonata Op. 57, Sonata Op. 111
Piano Concerto No. 3 Op. 37
Piano Concerto No. 5 Op. 73
BERIO, 6 Encores: III. Wasserklavier
BRAHMS, Klavierstücke Op. 76, 118, 119
Intermezzi Op. 117, Vier Balladen Op. 10
Zwei Rhapsodien Op. 79
Theme with Variations (piano transcription of the 2nd mov. the String Sextet Op. 18)
CHOPIN, Ballade No. 1 Op. 23, Ballade No. 2 Op. 38
Ballade No. 3 Op. 47, Ballade No. 4 Op. 52
Impromptu No. 1 Op. 29, Impromptu No. 2 Op. 36
Impromptu No. 3 Op. 51, Impromptu-Fantasie Op. 66
Scherzo No. 1 Op. 20, Scherzo No. 2 Op. 31
Etudes Op. 10 (selection), Etudes Op. 25 (selection)
Preludes Op. 28, Sonata No. 3 Op. 58
Mazurkas (selection), Nocturnes (selection)
DEBUSSY, Images I, Images II
Preludes I, II (selection)
DUCKWORTH, Time Curve Preludes (selection)
FRANCK, Prelude fugue et variation
GLASS, Complete Piano Etudes
Complete Metamorphosis
The Hours, piano suite (arr. by Michael Riesman)
Mad Rush, Wichita Vortex Sutra, Opening
Truman's Sleep, Mishima, Closing, Dreaming Awake
Orphée Suite (arr. by Paul Barnes)
Trilogy Sonata (arr. by Paul Barnes)
Piano Concerto No. 2 "After Lewis and Clarke): I. The Vision; III. The Land (arr. by Paul Barnes)
Monsters of Grace (arr. by Paul Barnes)
JENACEK, "From the Street" Sonata, In the Mists
KOMITAS, Garun a, Apricot tree, Armenian Folk Dances
LIEBERMANN, Sonata Notturna
MEDTNER, Fairy Tales (selection), Sonata Reminiscenza
MOZART, Sonata K 332, Sonata K 333
Adagio in b minor K 540
Piano Concerto No. 20 K 466
Piano Concerto No. 23 K 488
POULENC, Mélancolie, Intermezzo in A flat, Improvisation 7, 13, 15
PREISNER, Talking to myself
PROKOFIEV, Sonata No. 1
PURCELL, selection of Grounds
RACHMANINOV, Sonata No.1, Sonata No. 2, Etudes Tableaux Op. 39, selection of Preludes
Rachmaninov-Wild, Vocalise
RAMEAU, Suite in D minor, Les Sauvages
La Tambourine, Le Rappel des Oiseaux
L'egyptienne, Gavotte et six doublesin a minor
RESPIGHI, 3 Preludi su melodie gregoriane, Notturno
SCARLATTI, Sonatas (selection)
SCHUMANN, Sonata "Concert sans Orchestra" in f minor Op.14
Fantasie Op. 17, Drei Klavierstücke Op. 111, Piano Concerto Op. 54
VAUGHN-WILLIAMS, The Lake in the Mountains
VILLA-LOBOS, Planto do caboclo, Impressoes serestieiras
Ibericarabe, Tristoroza, Valsa da dor, 5 Preludes
Etudes No. 11, 12 (piano version Julija Baal)
SCHUBERT Drei Späte Klavierstücke D946
Vier Impromptu Op. 90, Sonata D960
SIBELIUS, Impromptu Op.5 Nn. 5-6
Belshazzar Night Music
Pubblicato 14 febbraio 2018 da

Da la colonna sonora del film "Cento di queste notti" si può ora vedere (e ...

Pubblicato 14 febbraio 2018 da

Due le puntate del programma "L'arpeggio" condotto da Luigi Picardi e dedicate al M° Marcello ...